10.05.2006
Beauty pageant for mules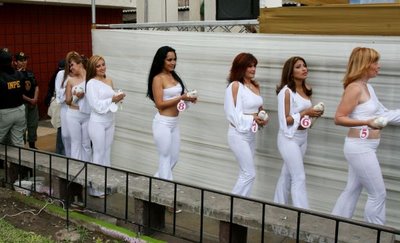 Contestants line up for judging. Photo courtesy 20 Minutes.
A mule is someone who smuggles drugs by swallowing condom-wrapped drugs and then, er, evacuating the drugs upon arrival at their destination. It's a sad fact that mules are usually not hardened criminals, but desperate individuals motivated by threats or extreme circumstances.
In Peru's Santa Monica women's prison, accused and convicted mules recently participated in a beauty pageant. The event was covered by France's
20 Minutes
. Blogger
Robert
translated the captions from a
photo essay
. Highlights follow:
On October 3rd, the women's prison of Santa Monica in Lima, Peru, organized the finale of the beauty contest called "Miss Spring" of which all the participants are inmates. Nearly all of the participants in the contest are mules, women who swallow capsules of cocaine for trafficking abroad -- mostly, Europe or the US. Among the 11 finalists, many nationalities are represented, notably Bolivia, Thailand, Belgium, and Mexico.

According to the director of the prison, this contest doesn't just rate the women on their physique, though sex appeal is important. It also judges the women on their feminity and their value as a person. The winner last year, On Uma Chumsri from Thailand, is present at the contest. She has been in Santa Monica prison since 2004, still awaiting trial. This year the winner is the beautiful Koku Kasusura from Holland.

Of the 32,397 inmates incarcerated in Peru, more than 700 are foreigners, the majority of which have been implicated in some form of drug trafficking.

via Boing Boing